Collaboration opportunities between UASF and ''AYT CAREER'' and ''AlbaBerisha Consulting''Companies
January 18, 2018

Posted by:

admin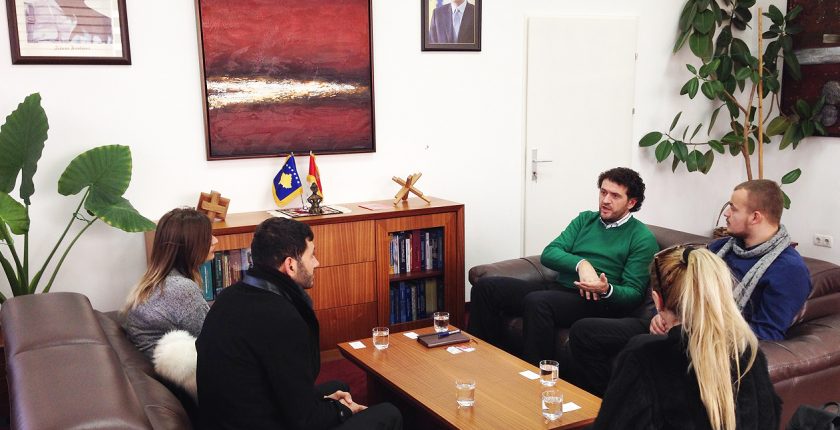 Rector of the University of Applied Sciences in Ferizaj, Prof. Dr. Agron Bajraktari received today in a meeting the director of the Turkish company "AYT CAREER", Mr. Hakan Bahadir SERT and the director of the company " Alba Berisha Consulting ", Albana Berisha, with whom they agreed to soon conclude Cooperation Agreements.
During the meeting was discussed about the possibility of cooperation between USHAF and these two companies, for seasonal employment for Hotel and Tourism Faculties students in the state of Turkey, as well as on ways and modalities of cooperation.
Rector Bajraktari thanked the representatives of the companies for the opportunity given to the students of UASF and stressed that in addition to the practical work, this cooperation will affect their professional performance as well as quality enhancement at the University.
"We have well-prepared and accountable students who hope to make dignified representation of the University while carrying out the work under the Agreement, which will be done in the near future and it will begin its implementation," said the Rector.
While, Mr. Hakan Bahadir SERT said that he has full confidence to UASF students, who come with a culture and tradition different from other countries with which we have agreements, so I believe we will achieve satisfactory results on both sides.
Director of the Company " Alba Berisha Consulting ", Albana Berisha, spoke about the modalities of the agreement regarding the student criteria to be selected, student benefits, such as payment, accommodation, food, insurance and traveling.
The Turkish company, "AYT CAREER", is licensed by the respective Turkish ministry and operates in the countries: Russia, Kyrgyzstan and Ukraine, where every year employs students at renowned hotels in Antalya, Turkey. While "Alba Berisha Consulting" Company from Kosovo is a Licensed Intermediary Company.
This post is also available in: Albanian
Calendar
August 2022
M
T
W
T
F
S
S
1
2
3
4
5
6
7
8
9
10
11
12
13
14
15
16
17
18
19
20
21
22
23
24
25
26
27
28
29
30
31
Custom Sidebar For teachers Page
Create your own sidebar via Visual Composer with drag and drop tech, for almost all pages!
This post is also available in: Albanian