In the framework of mobility a workshop was held at UASF
February 25, 2018

Posted by:

admin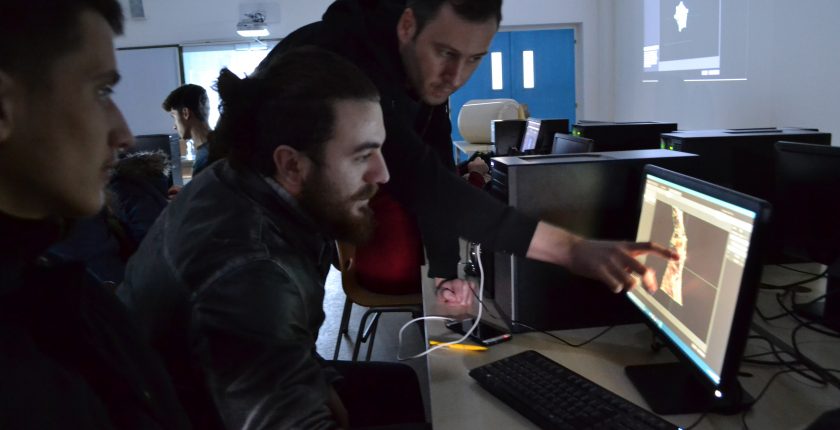 Professor Roch Forowicz from the University of Ecology and Management in Warsaw, Poland, stayed for several days at UASF in the framework of academic mobility, which included the Workshop with students of Architecture, Design and Wood Technology, entitled "Projection Mapping " and announced them with the latest design trends with the " Resolume Arena " program, which has little use in Kosovo.
During his visit to UASF, Professor Roch met with UASF's rector, Prof. Dr. Agron Bajraktari, who welcomed and thanked for the opportunity given to the students to take advantage of his knowledge.
Also, Professor Roch said that mobility is generally a good opportunity for sharing experiences and this workshop has been an extremely good experience.
"Students are excellently prepared, very talented and ambitious. Thanks to this, I have managed to develop the Workshop program satisfactorily and in a creative atmosphere. Generally speaking, working with these young people in this country has been a pleasure for me. I would like to come here again and develop other programs," said Professor Roch.
Florit Hoxha, a professor at UASF who supported the students throughout this time and cared for the well-being of this workshop, described this workshop as very important and innovative and feels happy that UASF offers opportunity to students to take advantage of professors from foreign universities. According to him, UASF students are fortunate to be part of this workshop and are gaining knowledge that few Universities offer.
Even students attending the workshop, Hënor Teneçja and Emanuel Gjergji, were delighted with the experience they are taking in projection mapping, which are intended to convey messages to the public, photo editing and the use of the new program. According to them, they would be very successful if they would start applying the knowledge gained from this Workshop.
This post is also available in: Albanian
Calendar
July 2022
M
T
W
T
F
S
S
1
2
3
4
5
6
7
8
9
10
11
12
13
14
15
16
17
18
19
20
21
22
23
24
25
26
27
28
29
30
31
Custom Sidebar For teachers Page
Create your own sidebar via Visual Composer with drag and drop tech, for almost all pages!
This post is also available in: Albanian