UASF opens seasonal employment opportunities for students of Faculty of Hospitality and Tourism at Turkey's biggest resorts in Antalya
January 23, 2018

Posted by:

admin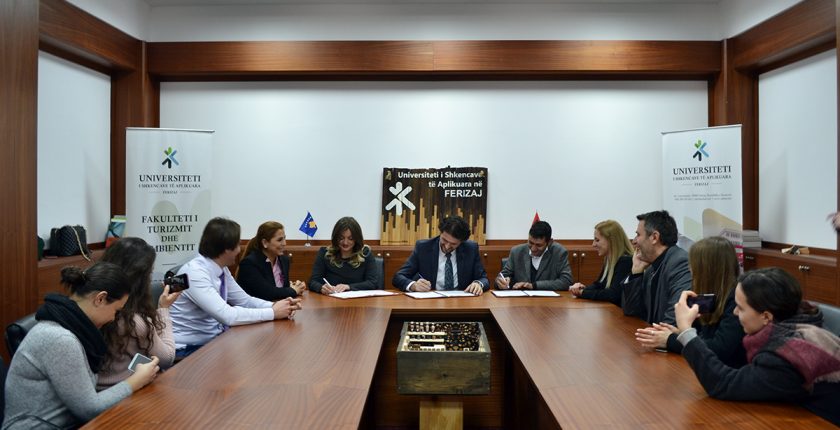 The rector of the University of Applied Sciences in Ferizaj (UASF), Prof. Dr. Agron Bajraktari, hosted in a meeting today the representatives of the Turkish Company " AYT Career", Mr. Hakan Bahadir Sert, the director of human recourses, Mrs. Cemile Akbulut and the director of Kosovar Agency "Alba Bersha Consulting", Mrs. Albana Berisha, with whom signed a Cooperation Agreement.
Aim of the Agreement is the realization of the practical work for the students of the Faculty of Hospitality and Tourism in the form of their seasonal employment in hotels / restaurants in Antalya, Turkey, from May to October 2018.
Rector Bajraktari thanked the representatives of the companies for the opportunity they are giving to UASF students and he considered the agreement very important, which according to him will have an impact on enhancing the quality of students and benefiting career advancement experiences.
"I hope that this cooperation will bring good results and the benefit will be mutual. I believe that our students will do a job, which will be considered satisfactory by the employer," said the Rector.
While, representatives of companies, Mr. Hakan Bahadir Sert and Mrs. Albana Berisha, thanked Rector Bajraktari for this cooperation, hoping for good results, because according to them, our countries are related to related culture and traditions.
Director of Human Resources, Mrs. Cemile Akbulut, thanked the UASF for the hospitality and said that among you finds comfort and feels like in her country. Likewise, she delivered a lecture to the students, in which she made the announcement of the modalities of the entire procedures, as well as the carrying out of the works deriving from the signed Agreement.
This post is also available in: Albanian
Calendar
August 2022
M
T
W
T
F
S
S
1
2
3
4
5
6
7
8
9
10
11
12
13
14
15
16
17
18
19
20
21
22
23
24
25
26
27
28
29
30
31
Custom Sidebar For teachers Page
Create your own sidebar via Visual Composer with drag and drop tech, for almost all pages!
This post is also available in: Albanian