The Mayer of Ferizaj Municipality, Mr. Agim Aliu promised to rector Bajraktari support in the development of UASF
January 26, 2018

Posted by:

admin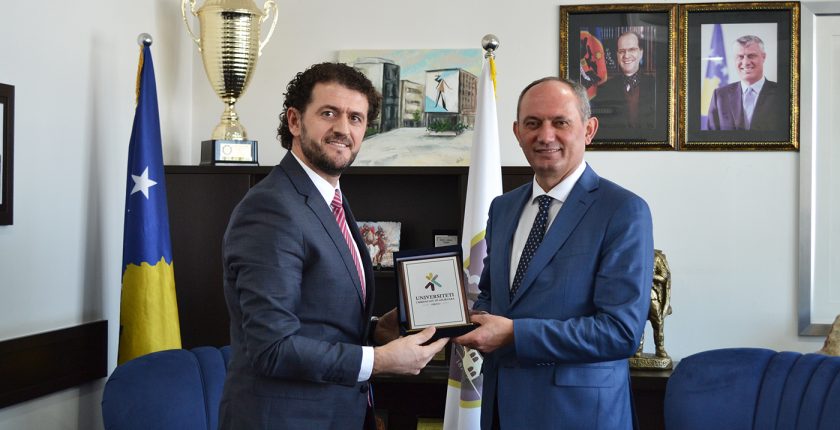 Rector of the University of Applied Sciences in Ferizaj (UASF), Prof. Dr. Agron Bajraktari, Head of the Steering Council of UASF, Prof. Assoc. Dr. Driton Sulejmani, Vice-Rector, Prof. Dr. Bujar Pira and General Secretary of UASF, Mr. Azem Jashari, were received today by the Mayor of Ferizaj, Mr. Agim Aliu, they congratulated the Mayor for his new duty and informed him about the progress of the University's work.
Rector Bajraktari, thanked Mayer Aliu for the hospitality and support that he offered to the University, informed him about the work being done for the development of the University, the creation of laboratories, the expansion of the infrastructure, which are planned to be done in the near future.
Also, Rector Bajraktari mentioned the fact that UASF has specific profiles, which opens the possibility of faster engagement in the labor market and according to him this is one of the main factors that interest in UASF studies is increasing every year.
Speaking about achievements, the Rector noted numerous agreements signed with businesses for student practical work, as well as agreements with local and international institutions, which pave the way for the University's development and walking alongside advanced universities.
Mayor Aliu thanked rector Bajraktari and congratulated him and the staff of UASF for the work and dedication to the development of the unique University of Applied Sciences.
Also, Mayor Aliu mentioned the importance of this University for Kosovo market and added that he feels satisfied that Ferizaj has such a university, which is a good opportunity to help the country with equipment with professionals and promised support in development of the University.
During this visit, Mayer Aliu and Rector Bajraktari agreed to establish a Joint Council, which will be done in cooperation with businesses in the region of Ferizaj. The Council will study the needs for secondary and higher education, whereby the necessary programs will be identified which will be opened in the future.
This post is also available in: Albanian
Calendar
August 2022
M
T
W
T
F
S
S
1
2
3
4
5
6
7
8
9
10
11
12
13
14
15
16
17
18
19
20
21
22
23
24
25
26
27
28
29
30
31
Custom Sidebar For teachers Page
Create your own sidebar via Visual Composer with drag and drop tech, for almost all pages!
This post is also available in: Albanian