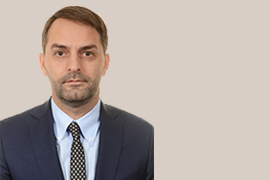 Address:
St. Universiteti, p.n. 70000 Ferizaj, Republic of Kosovo.
Prof. As. Dr. Petrit Hasanaj
Dean of the Faculty of Tourism and Environment
Prof. Ass. Dr. Petrit Hasanaj u lind më 07.05.1977, në Gjakovë. Shkollimin fillor e përfundoi në Shkollën fillore "Ardhmëria" në Ramoc, Gjakovë. Ndërsa, shkollimin e mesëm e vazhdoi në Gjakovë, në Shkollën e mesme të Mjekësisë "Hysni Zajmi".
Studimet baçelor i mbaroi në Universitetin e Prishtinës, në Fakultetin Ekonomik, Departamenti i Bankave dhe Financave dhe Studimet Master i mbaroi në Prishtinë, Menaxhim dhe Financa. Gjithashtu, në vitin 2008, mbaroi Masterin në Tregjet Financiare dhe Bankare – Full time, në Institutin e Studimeve Bankare në bashkëpunim me Universitetin e Pizës në Itali. Në vitin 2017, fitoi titullin Doktor i Shkencave në fushën e Turizmit, Universiteti "Shën Klementi i Ohrit "- Manastir, Maqedoni.
Prof. As. Dr. Petrit Hasanaj është mësimdhënës në Universitetin e Shkencave të Aplikuara në Ferizaj, i zgjedhur më 24 shtator 2019.
Para zgjedhjes së tij Profesor, Hasanaj në gusht të vitit 2018, është angazhuar si ekspert tek Autoriteti Kombëtar i Kualifikimeve, ku edhe vazhdon të punojë ende. Hasanaj ka qenë Dekan në Kolegjin ILIRIA – Prishtinë (2018-2019), si dhe ka qenë i angazhuar në Universitetin "Ukshin Hoti" – Prizren, si Asistent dhe Ligjërues i lëndëve të Ekonomisë për shumë vite me radhë. Gjithashtu, ka qenë Drejtor Menaxhues në Qendrën për Arsim dhe Këshillim Profesional "Gjon N. Kazazi" (2012-2017).
Në vitin 2008 u zgjodh Drejtor i Departamentit Financiar në kompaninë IFJB "Lesna" Sh.A – Prishtinë, ku vazhdoi të punojë deri në vitin 2010. Ndërsa, në vitin 2006 u zgjodh Përfaqësuesi Ligjor dhe Kryetari i Bordit të Drejtorëve në Institucionin Mikrofinanciar QELIM Kosova – Gjakovë, ku ai vazhdoi ta përfaqësonte atë deri në vitin 2015. Pastaj, Hasanaj gjatë viteve 2001 – 2006 punoi në Organizatën Italiane Celim Milano – në filialen e saj në Gjakovë, si Menaxher i Projekteve.
Hasanaj është zgjedhur Profesor Asistent në Universitetin e Shkencave të Aplikuara në Ferizaj në vitin 2019, si Mësimdhënës i lëndeve: Menaxhimi i Inovacioneve në Turizëm, Menaxhimi i Projekteve dhe Investimeve në Turizëm, Zhvillimi Ekonomik Rural dhe Turizmi.
Ai ka 5 prezantime në konferenca të ndryshme ndërkombëtare, të organizuara në Universitete të ndryshme (në Kosovë dhe rajon). Gjithashtu, ka publikuar mbi dhjetë punime në revista të njohura ndërkombëtare dhe vendore, nga fusha e Ekonomisë dhe Turizmit.
Prof. As. Dr. Petrit Hasanaj flet gjuhën Italiane, Angleze dhe njohuri bazike për gjuhën gjermane.
This post is also available in: Albanian