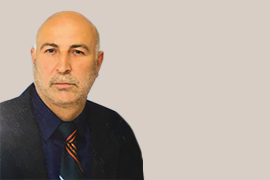 Address:
St. Universiteti, p.n. 70000 Ferizaj, Republic of Kosovo.
Prof. As. Dr. Fari Bushi
Prof. As. Dr. Fari Bushi, Professor at University of Applied Sciences in Ferizaj was employed in October 2019 as a professor of these subjects: Management of Operations, E-Marketing and Development of Businesses and Entrepreneurship in Tourism.
Before his employment as a professor at the University of Applied Sciences at University College "Vizioni për Arsim" – VPA 2012-2013 where he had taught the subject "The Basics of Accounting" and from the year 2013 to 2018 at University College "Universum" as a professor of the subjects: Financial Analysis, Managerial Accounting, Management of Human Resources, Public Finances, Strategic Management, Organizing Behavior, Global Economy, Business Environment.
He has also worked for a period of time at high schools "Skenderbeu" in Kaçanik and "Dardania" in Hani i Elezit.
He committed various tasks as a Member of Municipal Team for Developing Strategy of Hani i Elezit Municipality in 2009, Chairman of Consulting Committee for Economic Development & Urban Planning in Hani i Elezit during 2010-2013, Board Member of Public Company "Pastrimi" in Hani i Elezit, etc.
He has published several papers in International Journal and he keeps working furthermore on this direction. His degrees on "Economic Faculty", "Philosophic Faculty"" and Master degree of "Economic Faculty" were earned in University of Prishtina, and he got the PHD degree in International University of Struga on 30.06.2015.
Prof. As. Dr. Fari Bushi knows Serbo-Croatian and English.
This post is also available in: Albanian