Representatives from Utah Valley University held a lecture in front of UASF students
May 16, 2017

Posted by:

admin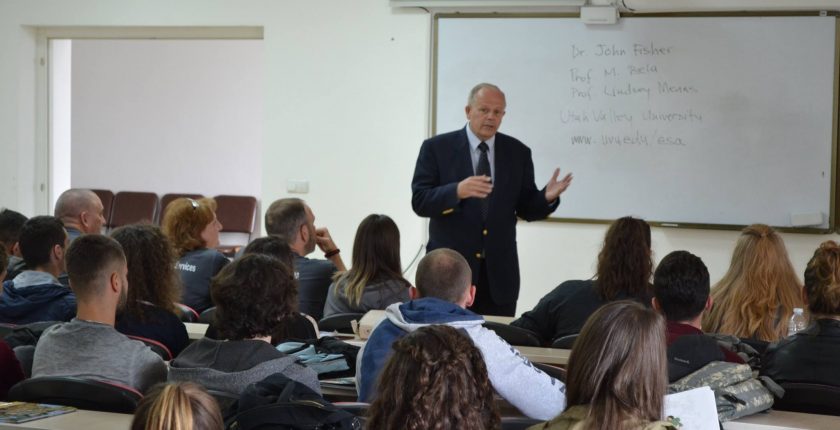 Vice rector for Buget, Finance and Infrastructure, Prof. Asoc. Dr Afrim Loku hosted Professor John Fisher, and other professors and students from Utah Valley University, USA, and had a general conversation related to emergency services issues.
Representatives from the Emergency Services Department, held a lecture in front of UASF students for topics such as: earthquakes, fairs, and other natural disasters.
Professors demonstrated in front of students how to respond in a case of any disaster and how should the first aid be given, and informed about their work as a part of this University.
Vice Rector Loku, thanked the representatives of this University for the time they shared to inform UASF students about the various disasters they may face, and said that this lecture is needed not only for students, but for all of us.
While, Professor Fisher was delighted that he had extraordinary interest of students in this lecture and said that this indicates tells that we all need such a lecture. He also expressed his great gratitude to the UASF, that gave them the chance to share their experiences with the students.
The Emergency Services Department at Utah Valley University prepares practicing and future emergency service professionals through a program that balances technical skills, critical and ethical thinking, leadership, and effective communication.
This post is also available in: Albanian
Custom Sidebar For teachers Page
Create your own sidebar via Visual Composer with drag and drop tech, for almost all pages!
This post is also available in: Albanian