Leadership seminar from Todd Geist and Jeremy Pereira
December 4, 2017

Posted by:

admin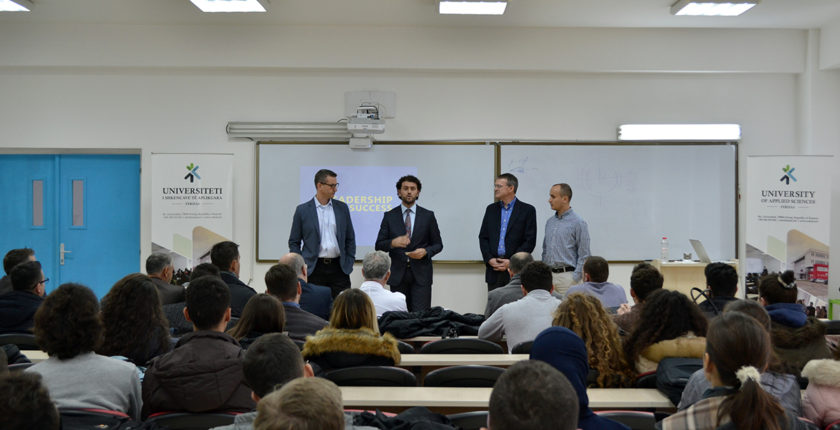 Students of the University of Applied Sciences in Ferizaj (UASF), had the chance to listen a lecture on leadership from the representatives of  "Global Leadership Partners" organization, Mr. Todd Geist dhe Mr. Jeremy Pereira.
Initially, representatives of this organization were hosted by the rector of UASF, Prof. Dr. Agron Bajraktari, who thanked them for finding time to visit the University and  share with students their exprerieces in a field that many of them will have the chance to work in the future.
Representatives of this organization exposed to the students how to become a successful leader, as they talked about the character of a leader, the courage, the activities and behaviour of a leader, as well as integrity, respect, care, and self-confidence.
"Sometimes when someone has a lot of self-confidence, he may seem arrogant. Only people of character are trustworthy. If you want to be a good leader and be followed by everyone, you must be trustworthy. Being trustworthy must have a character. Having a character needs to have a clear purpose", said Mr. Geist.
Lecturers Geist and Pereira thanked rector Bajraktari for the opportunity given to contribute to the students with their experiences and expressed their readiness to continue with such lectures in the future as well.
The seminar was organized by the Alfa Omega Center in Ferizaj.
This post is also available in: Albanian
Custom Sidebar For teachers Page
Create your own sidebar via Visual Composer with drag and drop tech, for almost all pages!
This post is also available in: Albanian