Lecture by Irene Glendinning in front of UASF Staff and Students on Academic Integrity, Plagiarism and Corruption in Higher Education
December 5, 2017

Posted by:

admin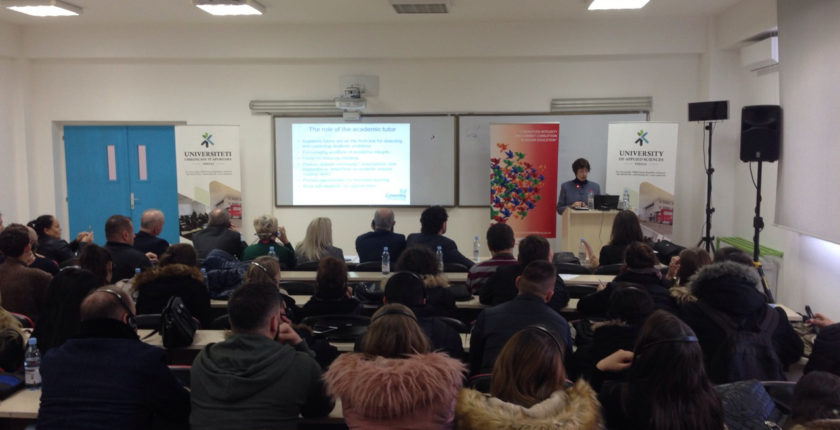 At the University of Applied Sciences in Ferizaj (UASF), a lecture was held on the topic "Academic Integrity, Plagiarism and Corruption in Higher Education", by Prof. Dr. Irene Glendinning from the University of Coventry, England.
Rector of UASF, Prof. Dr. Agron Bajraktari hosted in a meeting  the Glendinning Lecturer, who thanked her for the contribution and finding time for delivering a very important lecture for the students and staff of the University.  "This phenomenon is present in almost all institutions in many aspects, especially for intellectual property, which should not be violated but to be maintained as any other legally guaranteed property", said rector Bajraktari. Glendinning spoke to students and staff about corruption and its impact on society, academic and research integrity, and the reactions of institutions in various forms to combat this negative phenomenon.
"Plagiarism and Corruption in Higher Education Institutions, according to survey, are widespread across Europe, while six Balkan countries have been studied. High corruption was found due to classical lectures, written exams, copying by students, etc."  She also spoke about the findings that in institutions there is a phenomenon of bribery, disregard of teaching standards, privileges and other conditions, starting from admission to studies and to the assessment of student knowledge, which according to her all influence in reducing the values ​​of the institution and that fighting, such as confrontation, courage, honesty and transparency, as well as sanctioning with punitive measures, must be addressed. The lecture was organized by the Council of Europe, supported by the European Union, in order to fight against negative phenomena in higher education.
This post is also available in: Albanian
Custom Sidebar For teachers Page
Create your own sidebar via Visual Composer with drag and drop tech, for almost all pages!
This post is also available in: Albanian