Rector Bajraktari is attending the first International Turkish World Engineering and Science Congress
December 11, 2017

Posted by:

admin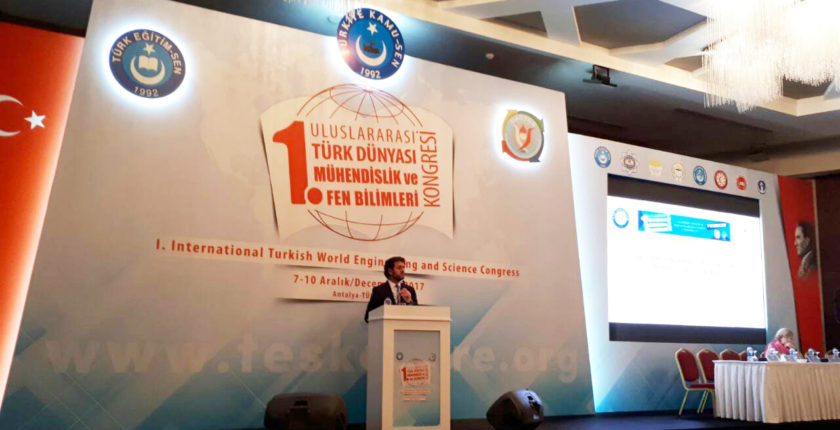 Rector of the University of Applied Sciences in Ferizaj (UASF), Prof. Dr. Agron Bajraktari, is on an official visit to Antalya, Turkey, in the framework of cooperation with the University of Gazi, where he is participating in the First International Turkish World Engineering and Science Congress.
Participant in this Congress whose president is Prof. Dr. Seyhan Firat (University of Gazi) are renowned experts from all over the world who are presenting their works, including Mr. Akif Gashi, President of the Association of Turkish Teachers in Kosovo and Mr. Orhan Volkan, Education Inspector at MEST.
The scientific papers presented in Congress have an important role in sharing information and new methods, following scientific and technological achievements, and solving problems, with particular emphasis on the contribution to diplomatic and cultural affirmation with partnership in information and technology.
In Congress, Prof. Dr. Agron Bajraktari is a member of the Scientific Committee, as well as invited as "Keynote Speaker".
Rector Bajraktari was introduced with the presentation on "Cooperation between University and Industry: the case of the University of Applied Sciences in Ferizaj", where he talked about the successful cooperation between the University and various businesses and the changes they have made to the University through the Industrial Board. He also talked about the achievement and representation of business ideas that significantly affects the performance of teaching and learning at the University.
This Congress is a reflection of efforts to develop cooperation in the social and cultural field in the fields of Science and Engineering in developing countries. This kind of organizations and congresses are important in terms of sharing the information which creates technology in the developed countries. The aim of it is to contribute cooperation vision between the Turkish World with science and technology.
During this time, the Rector met with great experts of the world of engineering and various sciences and exchanged experiences and ideas for the above-mentioned processes.
This post is also available in: Albanian
Calendar
July 2022
M
T
W
T
F
S
S
1
2
3
4
5
6
7
8
9
10
11
12
13
14
15
16
17
18
19
20
21
22
23
24
25
26
27
28
29
30
31
Custom Sidebar For teachers Page
Create your own sidebar via Visual Composer with drag and drop tech, for almost all pages!
This post is also available in: Albanian