Memorandum of Understanding between UASF, and Companies "Genç" from Turkey and 'Dekor Plus' from Ferizaj
December 14, 2017

Posted by:

admin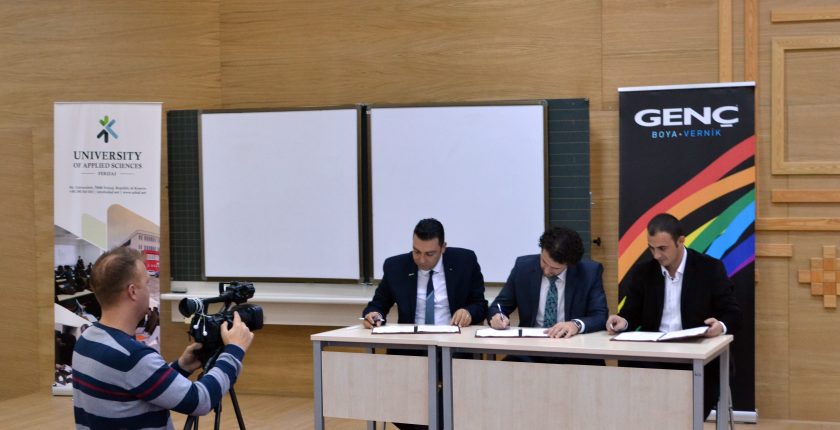 University of Applied Sciences in Ferizaj (UASF) today has signed a Memorandum of Understanding with companies "Genç" from Turkey and "Dekor Plus" from Ferizaj.
The memorandum was signed at the USHAF premises by the UASF rector – Prof. Dr. Agron Bajraktari, director of the company "Genç" – Mr. Tamer Kara and director of the Company "Dekor Plus" – Mr.  Nexhmedin Loku.
Initially, the Rector met with representatives of companies and thanked them for the cooperation and the opportunity that they are offering UASF students to get familiar with the technology of one of the most advanced companies in the World.
Rector Bajraktari said that this is a good opportunity for students to get acquainted with the materials produced by the company " Genç".
"We are privileged to have one of the experts who will let students know the achievements and the successful business of this company. Of course this is just the beginning of the cooperation and we hope that in the future the same will deepen with the reception of other representatives of this company," said Rector.
Likewise, the Rector also spoke about the importance of wood coating in the Wood Industry and said UASF staff and students visit to this company would be a good opportunity to get acquainted with the products of the Company.
Director of the "Genç" Company, Mr. Kara, thanked the Rector for the opportunity to present  products of this Company, which has an extension in 60 countries of the World, but which aims to become a trend in Kosovo through "Dekor Plus" distributor for Kosovo. According to him, such agreements increase business cooperation between Kosovo and Turkey, because it affects the communication between the two countries. During the presentation, Mr. Kara spoke about the development and operation of this company, and then spoke about the company's products: color types, properties, advantages and disadvantages of colors during their use. Participants during the signing of this Memorandum and in the lecture were also representatives of local wood processing companies.
This post is also available in: Albanian
Calendar
July 2022
M
T
W
T
F
S
S
1
2
3
4
5
6
7
8
9
10
11
12
13
14
15
16
17
18
19
20
21
22
23
24
25
26
27
28
29
30
31
Custom Sidebar For teachers Page
Create your own sidebar via Visual Composer with drag and drop tech, for almost all pages!
This post is also available in: Albanian