Rector Bajraktari receives the award "Personality of the Year" by Youth Non-Governmental Organizations and Local Youth Action Council in Ferizaj (LYAC)
December 26, 2017

Posted by:

admin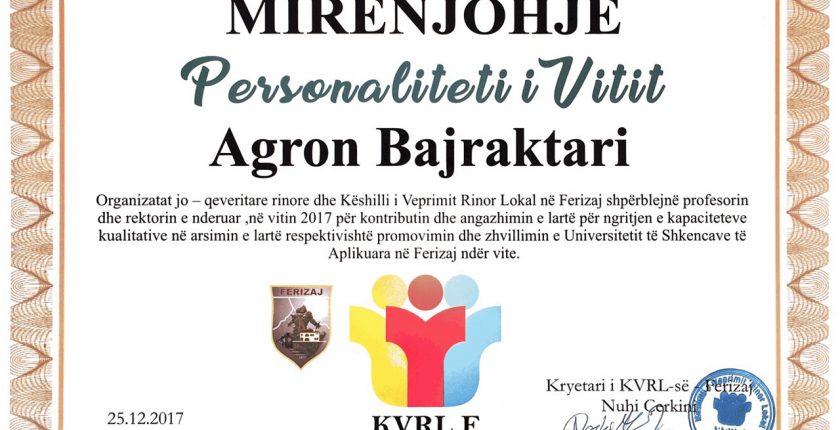 Youth Non-Governmental Organizations and Local Youth Action Council in Ferizaj (LYAC) reward the Rector of the University of Applied Sciences in Ferizaj (UASF), Prof. Dr. Agron Bajraktari "Personality of the Year" for the year 2017, with gratitude for the high contribution and commitment to the building of qualitative capacities in higher education, respectively the promotion and development of UASF over the years.
Rector Bajraktari said he feels honored and extremely pleased with this Acknowledgment, which will serve as a boost for more work and more activities in the future.
While the chairman of the LYAC, Mr. Nuhi Çerkini, who was awarded "Volunteer of the Year", thanked the rector Bajraktari for all the achievements at UASF, with which the entire municipality of Ferizaj feels proud. According to him, the Rector's activity was reflected in capacity building and human resources, being the main figure in contributing to the education of the youth of Ferizaj.
With Acknowledgment was also honored  the Professor of UASF, Mr. Fatmir Çerkini, as "Professor of the Year" for his many years contribution in education, as well as the student of UASF, Lulzim Hasani, as "Activist of the Year".
This post is also available in: Albanian
Calendar
August 2022
M
T
W
T
F
S
S
1
2
3
4
5
6
7
8
9
10
11
12
13
14
15
16
17
18
19
20
21
22
23
24
25
26
27
28
29
30
31
Custom Sidebar For teachers Page
Create your own sidebar via Visual Composer with drag and drop tech, for almost all pages!
This post is also available in: Albanian