UASF named the Grand Amphitheater with the name of the humanist and patriot Hyzri Beqri – Varoshi
December 27, 2017

Posted by:

admin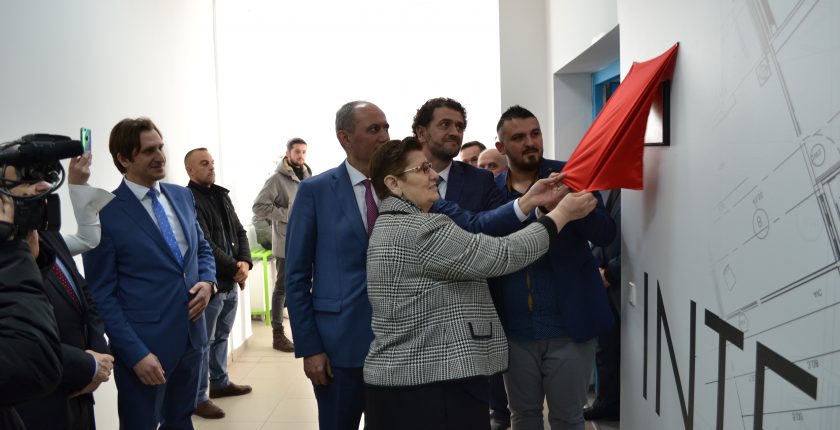 University of Applied Sciences in Ferizaj (UASF) named the Grand Amphitheater with the name of the humanist and patriot Hyzri Beqiri – Varoshi.
Humanism and sacrifice made by Hyzri Beqiri – Varoshi for the education of young people in Ferizaj, the Steering Council of UASF with the proposal of the Rector, Prof. Dr. Agron Bajraktari, took the decision that the Grand Amphitheater of the University hold this name.
The Rector in front of the audience, revealed the journey history of our institution since the establishment as a Center of Higher Education until now a days as the University of Applied Sciences.
Rector Bajraktari emphasized the institution's period when he held the activity in private facilities, especially in the home of humanist Hyzri Beqiri – Varoshi. He also stressed that, despite numerous challenges, this institution survived and today we are in this modern and unique University in Kosovo.
"Today is a special day, because we are commemorating a humanist, visionary, man of sacrifices, who faced many difficulties, but his ideal reached the goal. He was a great man who put his family in great risk and put all his wealth on the service of the people". He also helped with food and clothes students and the poor population", said the Rector.
Whereas, the Mayor of Ferizaj, Mr. Agim Aliu, thanked UASF for organizing this important event by making a chronological description of the challenges of the Albanian people. At the same time, he congratulated rector Bajraktari on the quality and achievements of UASF.
Isak Jashari, director at that time, talked about some of the events and challenges he faced with Serbian.
Mrs. Hidajete Beqiri thanked the Rector for this gratitude for her husband and said that she feels satisfied that her husband is commemorating the deeds and activities that he had done in the most difficult times of the Albanian people.
Meanwhile, Hyzri's granddaughter, Toska Nimani, spoke about her grandfather and how honored is her family for this decision. While, Edi Nimani performed in piano.
The disclosure of the nameplate of the Amphitheater was made jointly by the Rector, Agron Bajraktari, Mayor, Mr. Agim Aliu and Hyzri's wife, Mrs. Hidajete Beqiri.
The participants also had the chance to visit the exhibition organized by students of Architecture of Interior and Furniture Design, while students of the Hotel and Tourism Faculty served drinks and meals prepared by them and were accompanied by music from the "Fortuna" band.
Participants in this event were also deputies of the Assembly of Kosovo, mayors of Kosovo municipalities, representatives of religious communities, leaders of education institutions and citizens of Ferizaj.
This post is also available in: Albanian
Custom Sidebar For teachers Page
Create your own sidebar via Visual Composer with drag and drop tech, for almost all pages!
This post is also available in: Albanian