Vice president of "T- Mobile Austria", Mr. Driton Emini for the second time at UASF
January 5, 2018

Posted by:

admin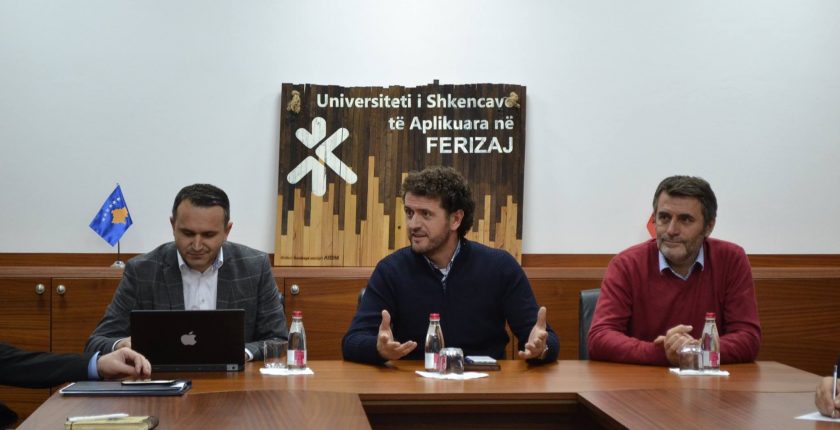 Rector of the University of Applied Sciences in Ferizaj (UASF), Prof. Dr. Agron Bajraktari, received today the Vice President of mobile operator "T-Mobile Austria" Mr. Driton Emini, with whom they discussed about the cooperation between the University and the Austrian giant telephony operator.
Rector Bajraktari thanked Mr. Emini for standing for the second time at UASF and for his readiness to cooperate. He also thanked for the hospitality that "T-Mobile Austria"made during his visit to Austria, where he had extraordinary experiences.
"I am happy that we have the opportunity to cooperate with one of the Albanians who have a high position in the Austrian business and the possibility that it is creating us through which we gain knowledge from the practices of the developed countries", said the Rector.
Also, Rector Bajraktari spoke about the UASF's background, challenges and achievements as well as the benefits that the students will have from this cooperation with one of the largest companies in Europe, such as T-Mobile Austria.
Mr. Emini thanked the rector Bajraktari for the collaboration and the opportunity that is being created to contribute to his hometown. Mr. Emini, also spoke about the visit of the Rector in Austria and said it was a pleasure to have guest representatives of the only university of applied sciences in Kosovo and beyond.
Vice president of "T-Mobile Austria" with the UASF management spoke about the performance and development of the dialogue, explaining them  the dialogue between the leader and the employee, the strategy development, which is always in a position to change, for 2g networks, 3g, 4g and the chance to develop even 5g during 2020.
Driton Emini is from the city of Gjilan and has migrated at age 15 to Germany, and then in Austria, where for several years works for "T-Mobile Austria", which is among the four most renowned companies in the world.
This post is also available in: Albanian
Custom Sidebar For teachers Page
Create your own sidebar via Visual Composer with drag and drop tech, for almost all pages!
This post is also available in: Albanian