Rector Bajraktari is staying at the University of Ecology and Management in Warsaw
May 11, 2017

Posted by:

admin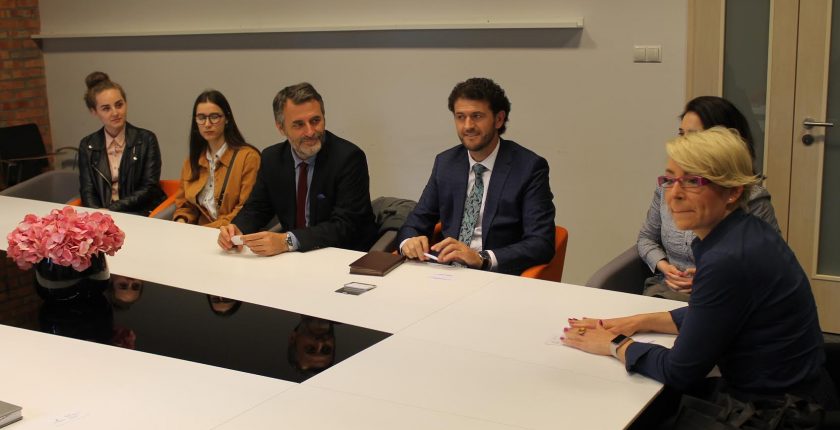 The Rector of the University of Applied Sciences in Ferizaj, Agron Bajraktari and Vice Rector for International Relations and Quality Assurance, Bujar Pira, are staying at the University of Ecology and Management in Warsaw,  as a result of the inter-university cooperation that UASF has with this University (within the Erasmus + program).
During the meeting with the Vice Rector, Justyna Klys and Dean of this University, Rector Bajraktari spoke about the university he leads and highlighted that is the newest Public University in Kosovo and the only one of this profile and there is a great need for  experience from  traditional universities, such as the University of Ecology and Management in Warsaw.
During this meeting, were discussed new opportunities for cooperation, while Rector Bajraktari thanked the Management of the University that opened the doors for Kosovar students and professors and this was considered as a great contribution for the development of higher education in Kosovo.
While, Vice Rector Klys thanked Rector Bajraktari for his cooperation and among other things mentioned the extraordinary success of two students of UASF, Alma Topalli and Alberta Makolli who are staying at this University in the framework of student mobility.
Also, Rector Bajraktari and Vice Rector Pira gave a lecture to students of this University. Rector Bajraktari spoke to them about the design, the basic principles of furniture design and technological trends in the wood industry. While Vice Rector Pira held a lecture on product design.
Rector Bajraktari also had meetings with deans: Ms. Katarzyna Adamiak, Bogdan Gorczyca and Mr. Jan Center, where was discussed about deepening inter-university cooperation.
During this month, the UASF administration will also visit this university. Likewise, in October of this year, the first professors of the University of Ecology and Management of Warsaw will come to UASF.
This post is also available in: Albanian
Custom Sidebar For teachers Page
Create your own sidebar via Visual Composer with drag and drop tech, for almost all pages!
This post is also available in: Albanian