Minister Bajrami and Rector Bajraktari opened "Future Professionals" Exhibition
May 29, 2017

Posted by:

admin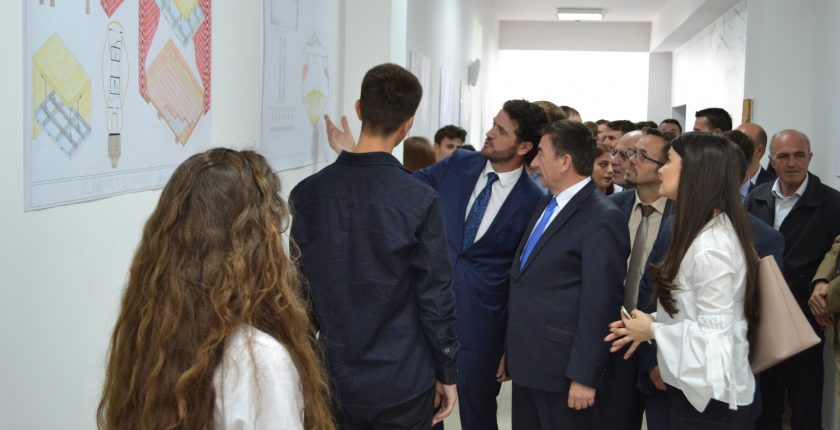 Minister of Education, Science and Technology, Arsim Bajrami and Rector of the University of Applied Sciences in Ferizaj, Agron Bajraktari, expressed  their satisfaction with the work of students at the opening of the exhibition "Future Professionals", which was opened today at the location of the University of Applied Sciences in Ferizaj.
In this exhibition, the second one of this kind is exhibited students work from the Faculty of Architecture, Faculty of Tourism and Hospitality, and Faculty of Management.
Minister Bajrami expressed very satisfied to help in the opening,  but also for his continually support for this University. Meanwhile, he said, "before three years we had a dream for this university, but we made it a reality because we created a model university not only for Ferizaj, bur for all Kosovo, we created the University of Applied Sciences".
The Minister of Education stressed that this is a 21st-century university, which offers future leaders. "The biggest resource we have is our young people, a European youth and very active, so we have a duty to work hard for them," said Minister Bajrami. "This is the best university we have for the moment," said the Minister, and this reasoned with the fate that this University, just for so long since it was founded, is very much sought after by young people and has gained great support of businesses and various companies.
Having compared it to well-known universities in different European countries, Minister Bajrami thanked Rector Bajraktari for excellent management, but also academic staff and students for their hard work.
While, rector Bajraktari emphasized the fact that this institution has only two years of life as a university and for this time, all the premises given in the feasibility study were fulfilled, which was then supported by the Government of Kosovo, respectively by the Minister Bajrami, whom he thanked for giving this opportunity to the young people of Ferizaj and Kosovo.
The Rector was proud of the students, for the good work done in this exhibition, but also for the work in the enterprises. He thanked the academic and non-academic staff, but also the enterprises that offered the practical work of the students, as the University still lacks the required laboratory facilities for financial reasons.
"Our work is closely related to the Enterprise and the Industrial Board, set up at Universities, is creating these future professionals, whom the market is looking forward to," rector Bajraktari said, while stressing the fact that many students are employed in the company without finishing the studies. Focusing on the work that has been done to create new opportunities for better student preparation, the Rector noted that now the first UASF students are staying at international universities as part of the mobility.
This post is also available in: Albanian
Custom Sidebar For teachers Page
Create your own sidebar via Visual Composer with drag and drop tech, for almost all pages!
This post is also available in: Albanian